Description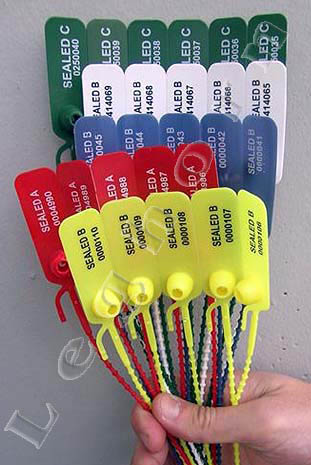 Adjustseal is an adjustable plastic seal manufactured by LeghornGroup for over 20 years.
Adjustseal has a diameter of 3.3mm and is available in two length sizes: 315mm and 425mm
It is made of polypropylene, 100% recyclable plastic and it is suitable to be used for different applications.
Adjustseal is available in stock for immediate dispatch with LeghornGroup standard marking – SEALED and progressive numbering. It can be also customised
with the company logo, exclusive progressive numbering, barcode or data matrix.
SIZE
Diam: 3,3 mm (1⁄8")
Length: 315 (12" 13⁄32")
Label: 22 x 50 mm (55⁄64" x 1" 31⁄32")
TECHNICAL DRAWING

MATERIAL
Polypropylene
MARKING OPTIONS
– INK TRANSFER PRINT
– Laser print
– Sequenced numbering up to 15 digits
– Bar-code possibility
– Customised up to 20 characters on one line
– Logos available upon request
– For special orders, logo printing in relief
PACKAGING
1.000 seals per carton – strip 10 pcs
carton size: 56 x 33 x 19 cm (22" 3⁄64" x 12" 63⁄64" x 7" 31⁄64")
carton weigth: 3,5 kg (7lb)
---
RELATED PRODUCTS