Bolt lock UHF RFID three-state e-seal SOTER SEAL
UHF RFID bolt-lock seal, is able to provide its status information, UNLOCKED,  LOCKED or TAMPERED,  which is stored in the RFID chip
REQUEST FOR QUOTATION
Description
LeghornGroup SOTER SEAL is a sturdy UHF RFID bolt-lock seal that combines high mechanical security with the electronic security offered by RFID, automatic radio frequency identification technology.
It's the first RFID bolt seal – compliant with ISO 17712 technical standards – available on the market that is able to provide its status information, UNLOCKED,  LOCKED OR TAMPERED, which is stored in the RFID chip. For this reason, the product has been named "three-state".
The outer polypropylene plastic housing of the seal – customizable with mark and numbering on request – embeds an unique and latest generation of electronic chip, that has its own univocal coding, which cannot be replicated.
This allows for secure and reliable automatic identification of the seal applied to the container or vehicle.
TECHNICAL DRAWING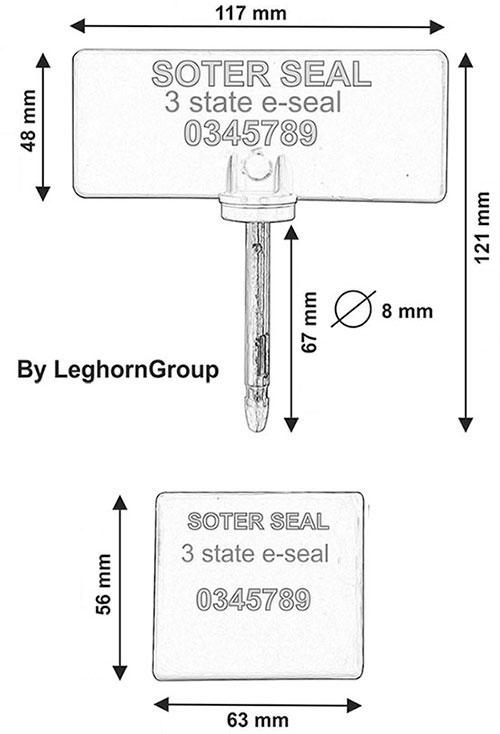 SOTER SEAL
Has univocal ID code and read/write user memory capabilities.
It offers at the same time the immediate and accurate seal identification and the status of the seal i.e. unlocked/locked and evidence of tamper occurred, if any.
It is an ideal solution for guaranteeing cargo security and tamper evidence along the shipping and supply chain.
Unsurpassed security level built-in:
Any event that occurs to the seal (unlocked, locked and tampered) is permanently stored in its chip's memory. Security is based on HW system– thanks to the technical specification of innovative chip RFID deployed – and it isn't transferred to external SW systems and algorithms, as for competing products.
COLORS & CUSTOMIZATIONS

RADIO FREQUENCY SPECIFICATION
Frequency: 860 – 960 MHz
Reference RF Standard: EPC Class 1 Gen2 / ISO/IEC 18000-6C
Technology: Passive
RFID IC: NXP G2iM+
User read / write memory: up to 640 bit
Memory size: from128 bit up to 448 bit of EPC memory
TID (Tag IDentifier): 96 bit, including 48-bit of univocal progressive numbering factory locked; 112 bit user TID memory
Password protected: yes
Tamper detection: yes – THREE STATES DETECTION
Read/Write cycle: 10000
Data retention: 20 years
PERFORMANCE
Reading distance by handheld reader: 2 m (depending on reader)
Reading distance at gate reader: 5 m (depending on reader)
Quality: 100% performance tested)
MECHANICAL SPECIFICATION
IP Protection: IP65
Operating temperature: – 20°C / + 55°C
Storage temperature: – 30°C / + 80°C
ISO 17712:2013 Clauses 4, 5 and 6: yes
Material: carbonitrured steel + polypropylene in accordance with Restriction of Hazardous Substances (RoHS), European Directive 2002/EC.
SIZE
Electronic flag: 48×117×4 mm
Metallic pin length: 67 mm
Metallic pin diameter: 8 mm
Bolt size: 56×63×26 mm
Weight: 114 g
Video