RFID Bolt Seal EOS SEAL
RFID Bolt Seal for containers and customs. Compliant with ISO 17712: 2013
REQUEST FOR QUOTATION
Description
RFID Bolt Seal
Bolt seal EOS, UHF RFID seal is a passive radio frequency device that transmits container identification code and information when interrogated by UHF RFID static gateway reader or handheld RFID reader devices. It combines the mechanical security of standard seals with the electronic security offered by RFID.
It has univocal ID code and read/write user memory capabilities.
To protect goods and prevent their theft and tampering, EOS UHF RFID seal locks containers, trucks and trailers, enabling speed up gate-in / gate-out operations in terminals, hubs, and ports.
Compliant with CBIC GUIDELINES (Circulars No. 26/2017, 36/2017, 37/2017-Customs), the EOS seal is UHF RFID tamper-proof one-time bolt seal bearing a unique serial number and brand of the vendors in the prescribed format.
Moreover, it complies with the international technical specification of High-security Seal as per ISO 17712:2013 (H). At the same time, the RFID communication protocol complies with the international ISO/ IEC 18000-6 Class 1 Gen 2 standard for use with UHF (860 MHz to 960 MHz) reader scanners.
EOS UHF RFID seal is a Customs Approved e-seal suitable for use for self-sealing of export containers.
TECHNICAL DRAW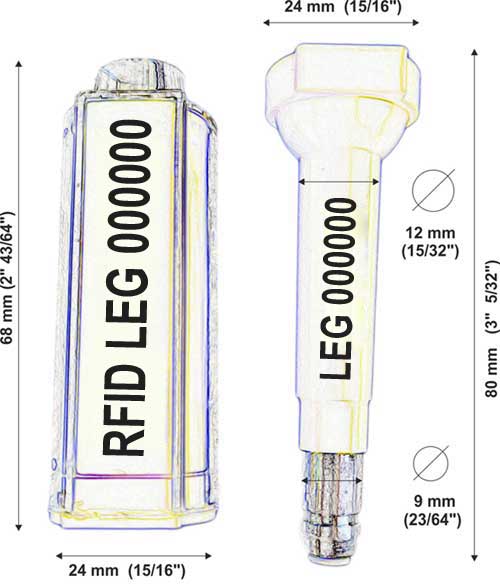 TECHNICAL SPECIFICATION
Radio Frequency specification
Frequency ………………………………………860 – 960 MHz – UHF EPC Global
Reference RF Standard ……………………….ISO/IEC 18000-63
RF Protocol ……………………………………..EPC Class 1 Gen2 / ISO/IEC 18000-63
Technology ………………………………………Passive
RFID Chip: ………………………………………Alien Technology, USA
Mechanical specification
IP Protection ………………………………….IP66
Operative Temperature ……………………..– 30°C / + 80 °C
Storage Temperature ……………………… – 30°C / + 80 °C
ISO 17712:2013 …………………………… Yes
Metal anti-spin design
Electronic specification
Reading distance handheld reader ……… 10 cm (depending on the reader)
Quality ……………………………………… 100% RFID performance tested
TID (tag unique identification) …………… Yes
S/N in memory (same of seal) ……….….. Yes
Data retention ……………………………  20 year
Integration with handheld reader ………… commercial reader, OS ANDROID
Integration with gate reader ………………  commercial industrial reader
SIZE
Pin diameter:  12 mm
Metal pin diameter 9 mm
Pin length: 80 mm
Bolt length: 68 mm
Bolt-head diameter: 24 mm
MATERIAL
ABS + CARBON STEEL
COLOURS & CUSTOMIZATIONS
Colours: red, green, yellow, light blu, white
Marking & Customisation: Laser engraving, Body: Logo, numbering, barcode or QR code.  Shaft: consecutive numbering. Space for 7 digits and 14 letters.
PACKAGING
200 pcs/ box
Box size: 460 x 390 x 305 mm
Gross weight: 17 kgs
Certificates
MIRDC ISO 17712