Description
Cable seals are metal adjustable seals and as such they are extremely versatile and can be used in a wide set of different applications.
CABLE SEAL 4×250 mm has the body completely made in anodised aluminium (*) and a steel cable comes out of it.
Once inserted the opposite end of the cable into the hole, and pulled it to the maximum possible extent, there will be no way to open the seal unless by breaking it with good shears.
Specifically CABLE SEAL 4×250 mm is suitable to meet security requirements in container shipping or rail transport.
This is a High Security Seal compliant with requirements impose by ISO 17712:2013.
(*) Anodising is a non- spontaneous electrochemical process by which a protective oxide layer forms on the surface of the treated metal and protects it from corrosion.
TECHNICAL DRAWING

SIZE
Diameter: 4 mm
Length: 250 mm
Different size available on demand.

MATERIAL
The body: painted aluminium
Cable: steel wire – different diameters
COLORS & CUSTOMIZATIONS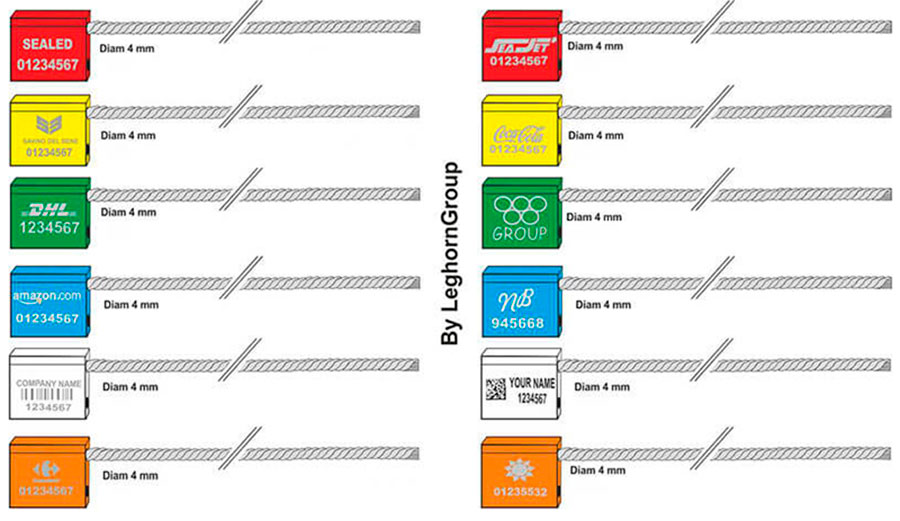 SEQUENTIAL NUMBERING AND CUSTOMISATION
– LASER PRINTING
– Sequenced numbering up to 15 digits
– Also alphanumeric
– Bar-code possibility
– Customised up to 20 characters on one line
– Logos available upon request
PACKAGING
500 pcs per carton
Carton size: 39×29×19 cm
Carton weight: 19,6 kg
Certificates
Certificate MIRDC
General presentation
View presentation