Description
Thin wire of 0.9 mm suitable to enter into small holes. Wire length can be variable.
Serial number laser marked to increase security levels.
Barcode should be possible.
No pliers or tool required to close the seal.
Big surface area enables no grips available for opening the seal. The parts are totally encapsulated within each other marking it difficult to tamper.
Possible to use a fragile wire made of MS or Plastic.
Possible to use a strong wire of SS in applications where more strength is required.
TECHNICAL DRAWING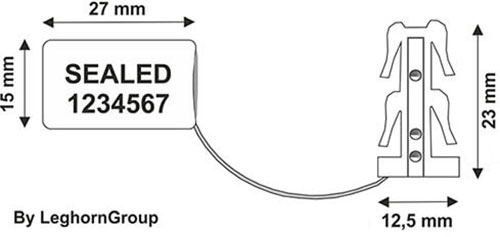 SIZE
Diameter : 12.5 mm
Length : 23 mm
Label: 27×15 mm
SEQUENTIAL NUMBERING AND CUSTOMISATION
Up to 7 digits (laser printed). Barcode Available
COLORS & CUSTOMIZATIONS

MATERIAL
HDPE( High-density polyethylene)
AVAILABLE COLORS
Orange – yellow – purple – white – red, other colors available on request.
PACKING
Carton with 3000 seals