Reusable electronic security seal eLOCK GOLD
Electronic reusable security lock with GSM and GPS
REQUEST FOR QUOTATION
Description
Reusable electronic security seal eLOCK GOLD
 Real time alerting and recording of any access to the goods transported or stored: opening, closing or tampering (device ID, type of event, date and time).
It has a  long operation time thanks to its long-lasting battery, rechargeable via USB and easy to replace by the user.
GPS tracking for location, control, geofencing.
eLOCK GOLD is an advanced electronic reusable security lock, to control position and status of trucks and containers, either from fixed station or from mobile devices (smart phone and tablet).
eLOCK GOLD sends an SMS  alert any time the lock registers an event of opening/closure, tampering attempt (e.g. the cable is being cut), battery is low. Alert message includes ID, event type, GPS coordinates for the place the event took place at, and time stamp.
Designed as evolution of LeghornGroup e-LOCK GOLD product, which is on the market since more than 5 years, offers an improved user experience – in addition to the existing model ability to obtain logistic identification information in real time.
Completely renewed plastic case to strengthen its resistance to mechanical shocks, dust and water (IP66 equivalent)..
Lithium battery, rechargeable via USB, of longer duration and replaceable by the user.
Facilitated insertion of SIM card.
Possibility to check the device functionalities thanks to the use of three front and multicoloured LEDs which report the user the battery status and GPS/GPRS communications.
The employment of a last generation GPS module that allows to consistently reduce warm up periods and detect/track indoor positions (ex. in a warehouse).
Possibility to download the recorded event log (more than 3500) from the device memory, throughout USB interface.
Easier connection to PC.
How does eLOCK GOLD work?
Thanks to its advanced technical features, eLOCK GOLD can send an SMS to a set of selected numbers or communicate via web platform  if an event occurs and allows you to enable features of:
MONITORING, thanks to its ability to communicate in real-time with IT systems for logistics and transport, it informs about the complete data on fleets and individual vehicles
ANALYSIS of the data for the entire fleet relating to individual drivers, with the possibility of intervention and planning of activities..
CONTROL, through real-time access to data on vehicles and drivers, and to the position marked on the map by using GPS tracking.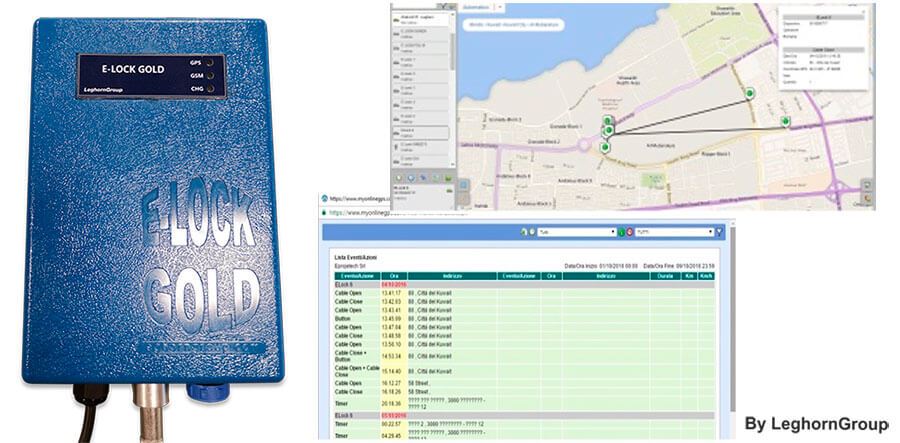 Used together a web-based èlatform for fleet tracking and management, it is a powerful tool to monitor vehicles and goods.
Technical specifications
Dimension: 106,6×156,1×44,5 mm
Material: High-resistant polycarbonate
Power supply: 5 VDC
Working voltage: 3,3 VDC
Average current: 80 mA
Current in standby mode: 15 uA
Internal battery: 4,2 VDC 6600 mAh – Lithium battery, rechargeable via USB
Working hours
Two data per day: 4 years
Ten data per day: 1 years
Continuous every 10 minutes: 10 days
Stand by > 10 years
CPU Microcontroller System on Chip Cypress ARM Cortex-M3
GSM GSM/GPRS module: Quectel M95
Frequency band Quad-band: GSM850, EGSM900, DCS1800, PCS1900 MHz
Antenna Internal antenna
GPS Compact GNSS Module, U-blox SAM-M8Q-0-10 GPS + GLONASS
Positioning accuracy: 2,5 m (8 ft)
GPS sensitivity 165dBm@Tracking, -158dBm@Acquisition, -146dBm@ColdStart , -155dBm@HotStart
Positioning time: Cold Start <26s; Hot Start <1s
Satellite receiving channel: 72 channels
Antenna embedded patch antenna
LED indicator: for GSM / GPS status and battery charge
Operating temperature: -15°C to 60°C
Storage temperature: -20°C to 60°C
Cable material insulated plastics, anti wringing, anti cutter
Cable length: 75 cm
Closure pin spring blocking system
Security Possibility to block the system by using seals
Log memory Last 3650 data recorded
Data program /Data download/Firmware upgrade: via USB
 Information for customers to have access to our after-sales service and warranty conditions